In times past, stories around the campfire were important lessons on the tactics and skills necessary to survive in a wild world. Story telling today is less of a life-and-death activity, but dads and granddads keep our traditions alive just the same. As a dad and granddad myself, I tell my fair share of tales. One of my favorites is the story of my first deer.
Like all good stories

It starts long before it happens. The summer of 1982 I was working at a Boy Scout Camp before I started my freshman year at Purdue University. I met a young man named Andre. Andre was from Brazil, and we became friends. After the camp season was over, Andre spent a couple of weeks with my family before he left Indiana to visit friends in California. We hung out, ran around town, and I took him on his first hunting trip. August meant squirrel hunting for me then. Seeing Andre's wonder as we gathered gear, and his excitement upon taking his first squirrel was a preview of what I'd experience when my children were old enough to start hunting. We cleaned and salted the pelt of Andre's squirrel, and when he left to continue his journey, it was packed away with the rest of his mementos of the summer.
Deer Season

Fast forward a couple of months. Thanksgiving break coincided with the opening of deer firearms season in Indiana. I had plans to spend the week going to work with my dad, who was in timber at the time. While his crew went about their work, I'd have a ride every morning to some primo deer hunting ground. Dad and I hunted together Saturday and Sunday. It was pretty uneventful until we came home Sunday and found we had an unexpected visitor….Andre! "Lets go hunting again!" While he wasn't expected, he certainly was welcome, so we rushed around and found a non-resident tag and broke out an old single shot 12 gauge for him to use.
I just saw a buck

Monday morning, as dad warmed up the skidder and waited for his loggers, Andre and I settled in at the base of a big beech tree with a reminder that we were only to shoot the ones with antlers. We waited….and waited…and Andre's gun bellowed. Nearly scared me to death! I looked around to his side of the tree just in time to see him launch another slug…at a squirrel. With another discussion about what we were hunting, and why it wasn't a good idea to launch slugs skyward, we walked back to the truck for a cup of coffee and a sandwich. As we ate, one of the loggers brought up a turn of logs. "I just saw a buck," he said. "He's probably still there if you want me to show you where." So off we went.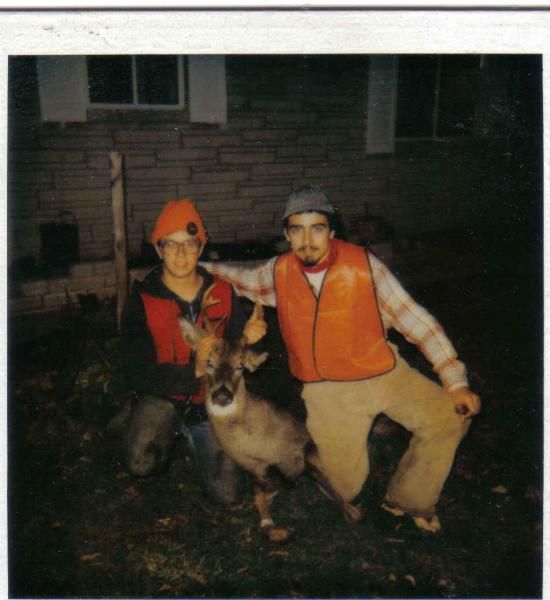 In the blink of an eye

We found my buck standing on a small bench at the base of a steep slope on the other side of Sugar Creek. While it was in range, there were just enough small trees to prevent a shot. As I moved to find an opening, he'd move behind more brush. So I did the only logical thing…I stripped down to my sox and long johns and waded across! And he stood and watched. I lined up my shot as carefully as I could while shivering, and at the shot he dropped in his tracks. In the blink of an eye, he was back up and racing down the middle of the creek. As I emptied my gun at his retreating rear end, I could hear Andre on the other bank. He was shooting as fast as he could reload and screaming in Portugese. I don't know what he was saying, but he sure did mean it! With the sounds of gunfire echoing down the valley, my buck followed the creek a hundred yards or so, and crossed back to the other side.
The Long Walk

All work on the logging operation came to a stop. After getting dressed and warming up a bit, we all took off to track my first deer. The guys on the logging crew were all experienced deer hunters. The lessons I learned about tracking that afternoon have proven invaluable through out my deer hunting career. A mile later, we found him. I field dressed him, Dad walked back and got a skidder to bring my fisrt deer out, and the rest of the guys regaled me with endless jabs about my marksmanship and my naked hunting tactics. It was great.
Andre left for good right after Thanksgiving. I went back to school and on with life. I only heard from Andre once more. We got a Christmas card from him that included a picture of an obviously drunk Brazilian wearing nothing but the pelt of an Indiana fox squirrel.
Please follow and like us:
I'm Paul Winks, and I'm proud to join the group at Military Hunting and Fishing. I'm a life long Hoosier, and Purdue Boilermaker fan. I grew up in a hunting and fishing family. My grandmother introduced me to panfish and morel mushrooms at a young age. My uncles took me on my first squirrel and rabbit hunts, and my Dad instilled a love of deer hunting and an appeitite for ginseng. Other intrerests, like waterfowl and turkeys, I picked up on my own. These days, waterfowl and river fishing consume most of my outdoor time, but I do still dabble in small game and deer every year. My two sons are my outdoor companions these days. I've spent a lot of time and effort to teach them the same respect and love for the outdoors that I developed years ago. I also have an entire tribe of grandsons, from first grade down to 2. My hands are gonna be full for years to come. I'm a welder by trade. That ability and desire to build has made me a avid DIY'er. Duck decoys, tree stands, and even duck boats...if I use it, I'm gonna try to build it. Chances are, if you are here, we have a lot of common interests. I look forward to sharing mine with you!